Lab Technology Today: Technology in the Driver's Seat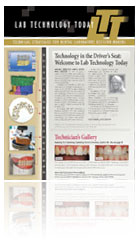 Published periodically in LMT, this technical strategies section focuses on the new and up-and-coming as well as the tried and true. The content of Lab Technology Today (LTT) is written by both technicians and manufacturers. It features case studies; how-to articles; product profiles; technical tips; a Technician's Gallery; and more.
In keeping with LMT's emphasis on business strategies, LTT also addresses how to incorporate new technology into your laboratory's workflow and how these technologies can impact your production, profitability and menu of services.
As the entire industry explores new technologies and discovers its inherent opportunities, it's crucial to share information and learn from each other. This section is your forum. Use it as a platform for sharing your expertise with your peers.
In addition, LTT acknowledges the manufacturing community whose leadership role in technology education is unsurpassed. Now we offer its technical members the opportunity to actively participate in our magazine.
Details for Submission
Articles should be approximately 500-1,000 words with 5 to 10 photos and must not have been previously published. The word count and number of photos go hand-in-hand; for example, if you have 1,000 words, we can fit fewer photos than if the copy is 500 words.

We welcome articles written by technicians, educators and manufacturers in a variety of formats. For example:

Step-by-step instructions or tips for working with a product, system or technique (this can be product-specific or generic)
Case study of a specific restoration
A business-oriented article explaining the impact of a product or technique on a laboratory's productivity and profitability
A marketing-oriented article detailing strategies for promoting a particular restoration
An analysis of how to solve a specific technical problem

Technician's Gallery: Technicians are welcome to submit before-and-after photos illustrating their work along with photo captions and an explanation of each case.

Photos: We accept 35mm and digital color photos; digital photos must be at least 300dpi when they are sized to be about 4-inches wide.

Article Review and Editing: All articles and Technician's Gallery submissions are reviewed by our technical advisory board and published at LMT's discretion. LMT's staff reserves the right to edit submitted articles to suit our editorial style. Edited articles will be sent to the author for review and corrections, but LMT retains final editing authority.

Submission Policies: LMT does not purchase articles published in LTT nor do we accept payment from manufacturers for their submissions.

Deadlines and Publication Dates: LTT is a periodic section in LMT and we require at least three months for a thorough editing and review process before we can specify a publication date, which is determined based on space availability. Send submissions to LTT@LMTmag.com.